A blog series curated by Gina Hay - En masse, the human race has stayed true to human nature through, for one, not taking literature at face value. We're an inquisitive species. Or, in other terms, a gossiping one. Many literature classes are built on the full exposure of the authors studied. What were their parents like? How did their environments change their writing? And in many cases, which mental breakdown resulted in which famous piece of literature? In this series, we're taking volunteers; writers studying writing, trying to gain a foothold in this "inquisitive" industry, providing us with a glimpse of their own background, and how it has affected their respective writing styles. In addition, they provide some advice to any writer looking for a new perspective.
*
This summer, my parents made the call to downsize into a townhouse in the west end of Vancouver. Thus I, dutiful daughter that I am, have been making trips back to Vancouver in order to perform the (not entirely altruistic) task of helping my mother purge her hefty collection of books. There are a lot. Once a photography student and now a retired media studies professor, my mom has a good eye for literature and an even better one for culture. She gives me context for what I discover as we sift through everything from key poststructuralist texts to early student art zines. I snag whatever catches my eye that she no longer cares to keep (some Bell Hooks, a Marshall McLuhan reader, a Diebenkorn gallery catalogue) and resign myself that I'll one day inherent what she cannot bear to part with at the moment (Butler's Gender Trouble, the works of Foucault). The rest gets donated to a leftist co-op bookstore. After the books, there is more that needs to be packed and sorted through: my grandmother's oil paintings, my great-grandfather's handcrafted furniture, the countless art of family friends that has made its way onto every coffee table, hung itself on every empty wall, and been stowed away in nearly every closet since my parents began living in this house.
When I talk about coming from a privileged background, I am often referring not to the amount of money my parents have in their bank account, but instead to a kind of cultural literacy that has surrounded me from my birth. I come from a family of artists and intellectuals who were able to educate and indoctrinate me into their communities. What I've come to realize as an adult now nursing hopes to pursue artistic writing professionally, is how crucial the people you surround yourself with are to your growth. Finding fellow writer whom you can rely on to provide solid and detailed feedback is by far the best advice I have to offer to any aspiring author or poet. However, finding a writing community that works for you can be deceptively hard. It isn't that there aren't groups and resources out there. The post-war advent of university writing departments is an obvious example of the increasing infrastructure present for aspiring writers. That being said, universities are not accessible avenues for everyone. Even for those attending post-secondary, writing may not be the most advantageous program for you. As an English major pursuing a writing minor, I sometimes find writing classes can create artistic echo chambers. I find many university writing instructors encourage an apolitical model of the novel, presenting "art for art's sake" as the only way to write as opposed to a way to write. Furthermore, anything considered "genre" writing is often excluded from workshops and assignments. This encourages a very narrow understanding of what it is to be a writer. I'm pursuing an English degree because it's what I find most stimulating, while also helping me improve my writing But I also know writers who are seeking degrees in biology, art history, medieval studies, and even engineering. There are few people more boring than writers who are just that: writers. A BFA is not a prerequisite to write, it's a program that works for some and doesn't for others. Campus journals, open mics, course unions, and clubs all provide spaces to build community and receive feedback all while not requiring you to be registered in a writing course. The internet is also an invaluable tool available to everyone, regardless of whether they are attending post-secondary. Online forums do the double-service of offering strong self-instructional resources and prompts as well as online communities eager to give and receive feedback.
I think back to my mother, sorting through her books. Her collection is less a testament of the education of an individual and more a timeline of friendships and connections. She makes note not of particularly valuable books but instead of what was gifted to her by cherished mentors, what was edited by close friends, what works that would later become keystone texts for certain communities. While I have been truly privileged to have grown up in an artistic community, I realize through watching my parents that nothing has been or will be more crucial to my own development as a writer than independently finding and building my own community. Having connections who share my artistic tastes and yet offer perspectives I would never have realized continues to aide me in my growth as an artist. Thus, my first piece of advice to any fellow aspiring artist of writing is always to seek community. Find your fellows and experience the joy of watching your collective writing go places you'd have never expected.

****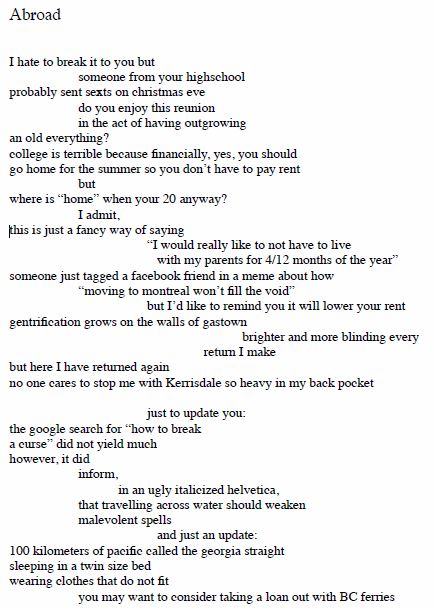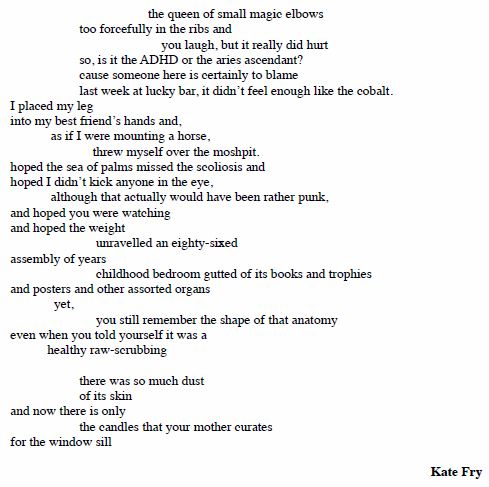 *

Kate Fry is a University of Victoria third year student currently studying in the English Honors program. She works as the head editor for the Warren Undergraduate Review. Her poetry has appeared in the 2017-2018 edition of This Side of West, and the added poem (titled Abroad) won first place for poetry in 2018 for On The Verge, a Victoria-based writing contest. When not at school, Kate can be found furiously climbing up and down ladders at Russel Books, where she works.